Over 3 million energy customers have already switched in 2017
After the recent news coverage on the British Gas electricity price rise by 12.5% that will affect 3.1 million customers. It has to no surprise affected the amount of people switching their energy supplier.
Energy UK announced that over three million electricity customers have already switched their electricity supplier this year, a 14 % rise on this point last year. In July of this year 385,000 customers switched provider, again another rise on July 2016, an increase of 16%. Interestingly, one in five customers chose to sign a contract with small to medium sized suppliers.
When did you last switch your energy supplier?
At Energy Finder, our main aim is to save you or your business as much money as possible on your utility costs, avoiding you being overcharged for your utilities. We do this by finding you the best deals available on the market to suit your specific energy needs.
Our Core Values
As a business, we have a set of core values that we pride ourselves on, we are professional yet personal in the quality of our solutions we offer and our outward presentation to you. We are helpful, we take care of everything. This could be from dealing directly with the suppliers with any queries you may have about your contract, to such things as serving terminations for your existing contracts. As an Energy Finder customer, you are our priority, we are prompt and efficient in finding you the best rates as we are interested in helping people with their utilities. We specialize in the business energy sector to enable us to offer excellent customer service to you. Our knowledge and experience has been built up over 30 years in the energy market, this allows us to use our buying power in the sector to directly affect you, saving you money and time. Our staff are UK based and you will have a dedicated Account Manager so when you contact us you will be speaking to somebody who can fully understand your needs and concerns and resolve any issues. We want to make it easy for our customers to deal with us.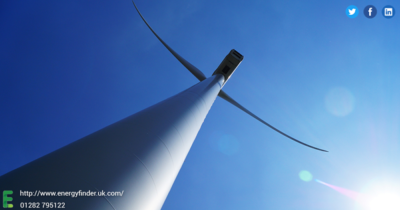 Why use Energy Finder?
We save our customers time and money- We know that comparing energy rates is a time-consuming and difficult task and that is why we do it for you. We provide a quick and efficient service to our customers and save your time and your money, while we deal with all negotiations to start your energy contract. On previous customer quotes, we have had savings of up to 40 % on previous tariffs.
We provide our customers with the best deal on the market- We know the importance of budgeting within a business or your home, so we compare the best contract deals from across the marketplace to find the lowest cost contract that will also fulfil your specific needs, while dealing with all the negotiations to find you the best price on your gas and electricity.
We are quick, efficient and accurate- Our team are cost-reduction experts within the energy sector and find you accurate deals as quick as we can that will suit you. Once we have collected all of the data from you we handle everything from price negotiation to the transfer of your new supply. We aim to keep things as simple as we possibly can to enable you to keep your input of time and effort to the lowest amount. We are regularly updated of any price changes from our suppliers to enable us to provide you an accurate and up to date service.
We provide the complete one stop solution for all utilities- We can offer a one-stop shop this includes from gas and electricity to telecoms or oil and within all our services we can find you the best rates.
We provide free utility audits and add value to our customers businesses'– We offer a professional and transparent service to our customers and we add value to you by offering you the best service and rates.
Over our years of service, we have received the following feedback:
"Professional and transparent service."
"Fantastic prices offered."
"Excellent service."
"Better rates and no standing charge."
"Strongly recommend."
"Professional approach"
Visit our Testimonials to find out more about us from our previous customers, who have used our service.
Our Process
Once you have made an enquiry we have a six-step process to switch your supplier, we make the process of changing supplier as hassle free for you as possible.
We compare,
We negotiate,
You will be given an Account Manager,
Price and supplier agreed,
Contract signed,
Supply switched.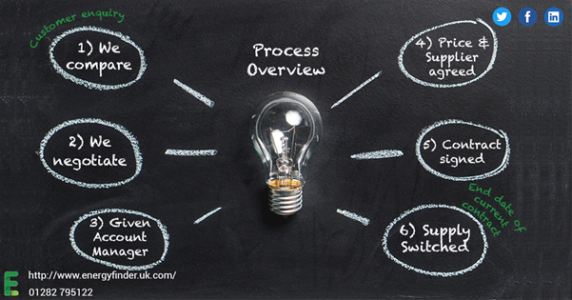 Contact Us
Interested? Please contact us or request a quote online to see how we can help you or your business with your utility costs.
Email: info@energyfinder.uk.com
Contact Number: 01282 570248
Facebook: Energy Finder Ltd: @energyfinderltd
Twitter: @EnergyFinderLtd
Linked In: Energy Finder Ltd